Eurostat presented data on trade in energy products between the European Union and the rest of the world (extra EU trade) as well as between member states (intra-EU trade). The information includes findings from 2017 to 2021, focusing on Russia as the main supplier of petroleum oils and natural gas to the EU.

As can be seen from the image below, EU energy imports began a downward trend from 78.4 million tonnes in 2018, reaching their lowest levels of in 62.5 million tonnes 2020 due to the COVID-19 crisis, but went up again in 2021. Looking at the average monthly value of energy product imports, there is an increase from €22.3 billion per month in 2017 to €25.8 billion per month in 2021.




The following figure shows the share of each product in extra-EU energy imports in 2020 and 2021. Here, there is a clear dominance of crude oil, which accounts for 70.9% of total EU energy imports in 2021, followed by natural gas in its gaseous state (16.6%).




Russia ranked first in both natural gas and petroleum oil supplies to the EU. If we compare 2020 and 2021, there is a slight decrease in Russian supplies, which is expected to decrease further given the current political situation and planned gradual ban on Russian fossil fuels. Russia's dominance in gas imports is very significant – about 40%, compared with Norway (25.1%), Algeria (8.2%), the USA (7.3%), and the UK (6.5%). The largest importers of natural gas in the EU were Germany, Italy and the Netherlands in 2021. The share of Russian gas was less than 25 % for the Netherlands and between 25 % and 50 % for Italy and Germany. Ten EU Member States imported more than 75 % of their natural gas imports from Russia – Bulgaria, Czechia, Estonia, Latvia, Hungary, Austria, Romania, Slovenia, Slovakia and Finland.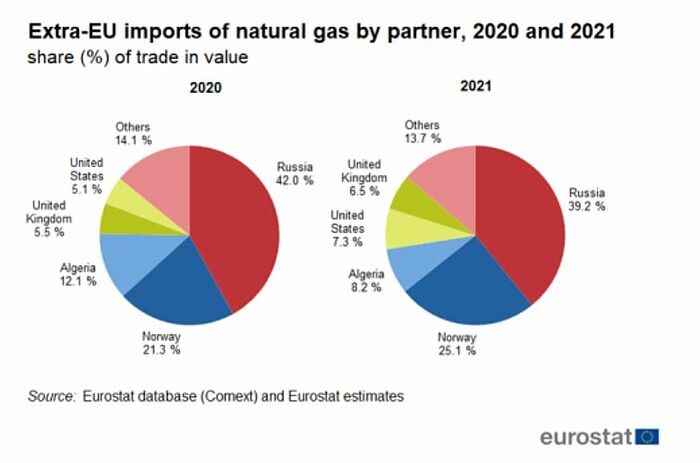 The percentage of Russian petroleum oil in the EU import market is not as high as with gas, but still almost 25%. Norway is in second place with 9.4%, followed by the U.S., Libya and Kazakhstan, each supplying about 8%. The largest importers of petroleum oil from the extra EU were Germany, Greece, France, Italy and the Netherlands in 2021: the share of Russian oil in national imports was less than 25 % for Greece, France, Spain and Italy and between 25 % and 50 % for the Netherlands and Germany. In Bulgaria, Slovakia, Hungary and Finland more than 75 % of their imports in petroleum oils came from Russia.